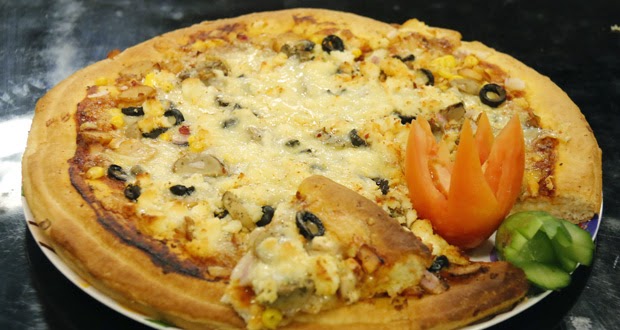 Ingredients for Pizza Dough:
Flour 2 ½ cups
Sugar 2 tbsp
Salt 1 tsp
Oil ¼ cup
Instant yeast 1 ½ tsp
Pizza sauce ½ cup
Cheddar cheese 1 cup (grated)
Mozzarella cheese ½ cup (grated)
Oregano leaves 1 tsp
Sweet corn 2 to 3 tbsp
Ingredients for Filling:
Sausages 4 (sliced)
Smoked chicken 1 cup (chopped)
Onion ½ cup (cubes)
Black olives 2 tbsp
Mushrooms 4 (sliced)
METHOD FOR DOUGH:
Mix all the ingredients and make a soft dough. Leave to rise until doubled.
Ingredients for Pizza Oil:
Oil ¼ cup
Crushed garlic ½ tsp
Crushed red pepper ½ tsp
Salt ¼ tsp
METHOD FOR PIZZA OIL:
Mix all together for 10 minutes on low heat. To assemble pizza, roll pizza dough put on a pizza plate brush with pizza oil on the base. Then pizza sauce 2 tbsp, cheddar cheese, sausages, smoked chicken, onion cubes, olives, mushrooms, oregano both the cheese and bake on 200 degrees for 25 minutes.